We cannot let the uncertainty of the current times put us into a perpetual holding or cancelling pattern. We need plans to stay positive and proactive, I am personally of the type that needs scheduling things and adding dates and times to my agenda.
Being realistic in the current global scenario, we can only foresee Freightcamp again as a virtual-only concept. Many of our esteemed freight forwarders have also requested us to have events more often while they can only be done in a Virtual way, in order to create more engagement between partners and generate more business connections.
That's why we are organising a second edition of the Virtual Freightcamp from the 7th to the 10th of June. So, enjoy filling your agenda with an excellent plan!
Since a very early stage, from Freightcamp we have addressed the pandemic with realism and anticipation, in order to continue offering valued networking opportunities to our worldwide freight forwarders. Last year we made a huge switch from cancelling our event in Amsterdam to hosting a new virtual concept event, facilitated by the development in record time of a completely new and tailor-made portal. Times are difficult but there is no space to just stay regretting and waiting.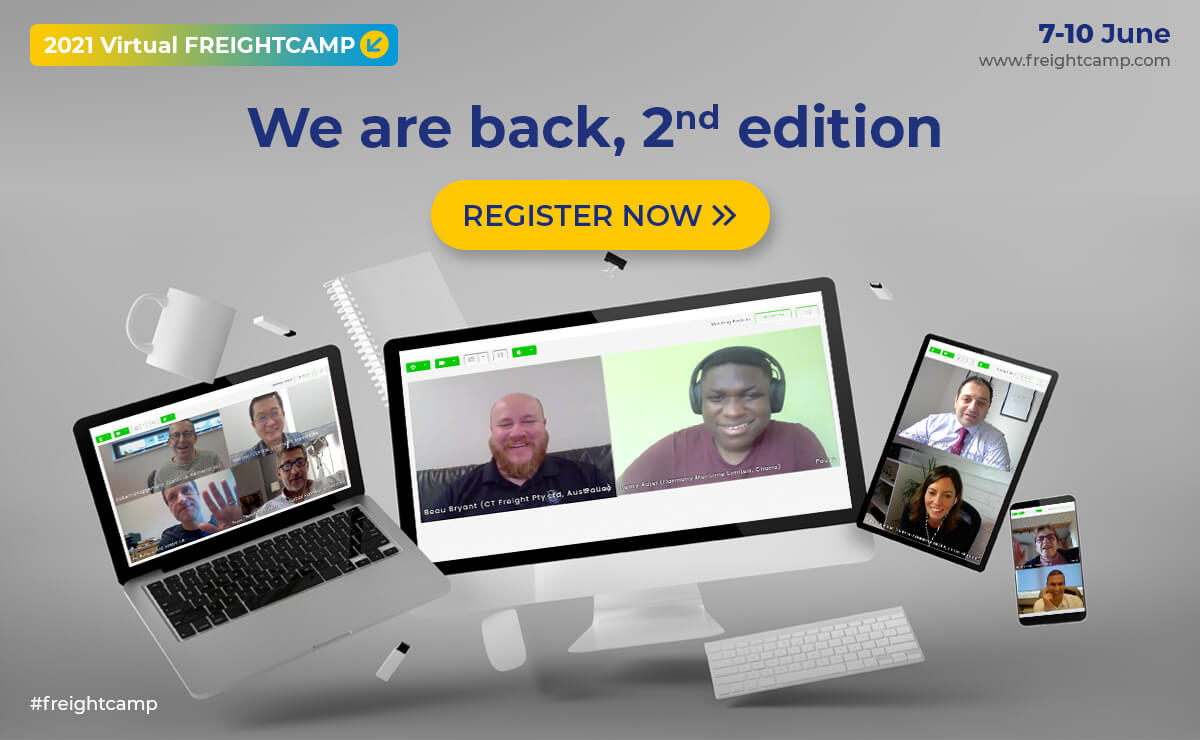 Voted best virtual meeting
Our Virtual Freightcamp does not run with zoom or skype, not meaning these are not excellent systems. However it is not the same to have a single conference call than managing 30 meetings, with different companies, from different time zones, with a fixed duration and all within a few days. When conceptualising the new solution it was our primary objective that the platform had to be unique and super user friendly, this means all done from a single site within a perfect UI/UX interface, from registration, to organising your time zone and availability, scheduling meetings, accessing webinars and having your one2one meetings.
From here your can see the results of the post-event survey done after the first Virtual Freightcamp.
Don't miss the second round!
If you missed the first edition of Virtual Freightcamp means you haven't met your partners 1to1 since October 2019 in Singapore!! This is 15 months and counting!!
No one can predict how things will evolve this year and when we will be able to plan in-person events again, we can only make estimations in the short-term, and what is certain and has general consensus is that restrictions for travelling and assemblies will remain in our calendar.
So, don't just wait and let more months go by, you still have the chance to meet partners 1to1 in a virtual yet productive way. It is the best and only alternative while we all look forward to meeting in person again.
For Business Developers, Sales Managers, Directors
Make the most of the Virtual Event by increasing the participation from your Company. When attending an in-person event, you need to limit the number of attendees since the budget is higher and means leaving the office for an entire week. Time and budget saving are a clear advantage of the virtual concept, so add more participants to make more connections and a valued post-meeting follow up.
Every participant your inscribe at Virtual Freightcamp can have up to 30 meetings!
Pls. process your registration from here.