During this year's Freightcamp Global Meeting, CHAMP Cargosystems was invited to Abu Dhabi. At this first joint meeting for CONNECTA and PANGEA members, CHAMP was given the opportunity to exclusively engage with members from both networks.
CHAMP explained there is a special member access to their web-based freight forwarding system Logitude, that enables air and ocean freight forwarders to manage quotes, shipments, bookings and consolidations more efficiently and cost-effectively without any major financial outlay or IT commitments.
During the opening session CHAMP pitched the special Connecta and Pangea member offer:
Free subscription for eAWB with 1 user and 1 airline of choice
Upgrade Logitude subscription to enable multiple user or multiple airline connectivity at specially discounted and very competitive rates
If you are in need of a full solution, for freight forwarders, consolidators, NVOCCs or an import/export manager who tracks shipping activities, Logitude has the answer for you with its state-of the-art freight forwarder solutions to raise productivity and performance.
For more information please view our special Connecta deal online and request your free demo account or free subscription now!
Please read below a Member Testimonial from Edward Micallef (on the right of the picture), General Manager at World Express Logistics, WEL (Malta).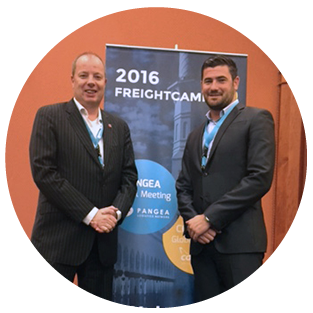 We have been using Logitude for the past 6 months and it turned out to be a very good decision.
"Logitude's cloud-based system provides 24/7 remote access and is easy to install without need of upgrading your office's IT system. Logitude is e-AWB ready and thanks to its virtual Dashboard give you an easy summary of all your incoming/outgoing shipments in 1 screen. Logitude provides you with real-time up-to-date status of shipments and notifies you with any shipment update which is really what we require in our industry. Logitude is very customisable and even lets you upload the Stock of AWB from different carriers apart from storing all your Shipper + Consignee details which reduces the time and effort of data inputting. Logitude is very helpful when it comes to consolidations, it supports HAWB + MAWB and all respective details are forwarded immediately to the carriers.
Thanks to Logitude our team saved a lot of man-hours of data inputting for repetitive weekly shipments which we are currently handling for the same shipper/consignee saved in the system and all you need to do is duplicate the shipment and assign it a new AWB number from the AWB stock uploaded in the system."