Small really can be beautiful – and efficient and reliable and a cut above the big boys! That's why companies with time-critical shipments, emergency logistics and general cargo requirements have come to rely on AirMax International.
Started in 2003 by experienced, ex-airline cargo professionals Raj Kundi and Elbia Madera-Kundi in the spare room of their home, AirMax International has steadily grown and built a reputation for being a go-to company in the New York area.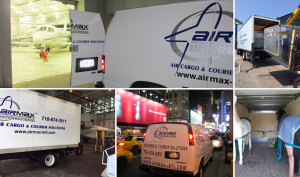 Not only do they work standard offices hours but the AirMax team is even on hand in the middle of the night for that urgent shipment that no-one else is willing or able to take on at that time. Other freight forwarders, Government agencies, individuals and high profile clients all trust Air Max International to tackle their freight and logistics requirements.
The diverse nature of what the team now moves is amazing: in recent weeks AirMax has moved everything from urgent aircraft spare parts to models of horses for a TV show and then environmental research equipment. But what they're most proud of is the peace of mind they give their customers – who return time and time again.
Pls. contact AirMax International at [email protected] for more information