GAMA INTERMODAL, your CONNECTA Partner from Turkey, has recently arranged a charter flight for Diplomatic cargo belonging to the US Embassy to be shipped to the Democratic Republic of Congo.
One Boeing 747-400F was organized on November 17th for freighting 62 tons of cargo within the scope of the project. The team completed the entire operation, which involved pickup, customs clearance, and loading, with great care within 12 hours.
Below are some pictures of the operations.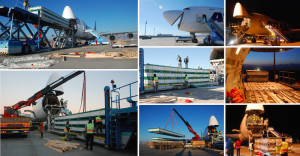 Pls. visit www.gamaas.com.tr for more information.