The 2022 Members' Picks are here! We have selected our favourite stories of the year shared from all members. We specifically looked for a variety of factors, including members' stories of cooperation, interesting moves and operations that prove your professionalism and specialty, business expansion with new launches and openings, as well as partners notices receiving industry accreditations and awards.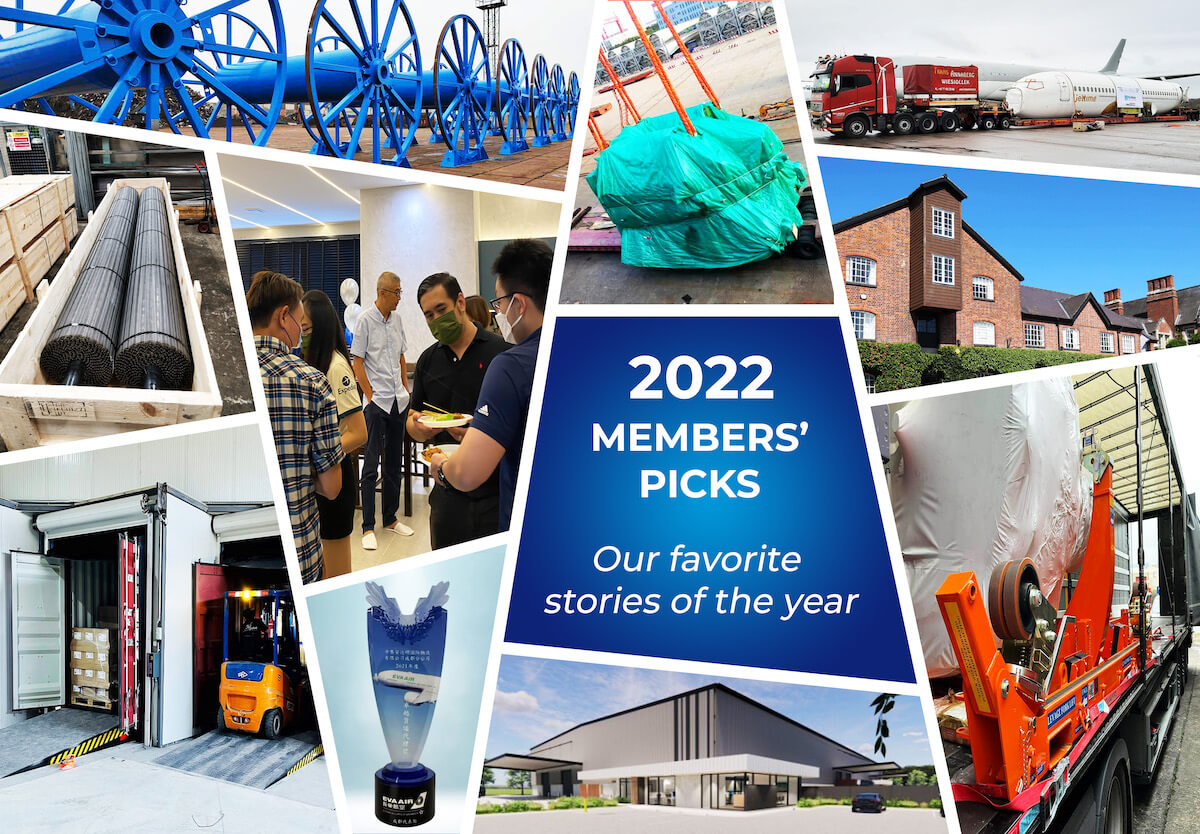 Members' cooperation are always our best-loved news items
It's fantastic to learn how members from far apart support one and other, first for finding the most convenient freight solution for each operation and secondly for executing accurately and effectively, such is the case of Visy (Australia) and In time (UK) for moving an OOG airfreight in minimal time (read more), and the ongoing traffic between Rutair (Spain) and ILS (Chile) for delivering photovoltaic power systems in telecommunication stations from several Latin American countries (read more).
Members trust their regular traffics to their fellow counterparts knowing they are relying on professional partners that will handle their business with maximum care, being this the best strategy for developing new connections and lasting partnership. Learn how Elias Ayiotis from Cyprus counts on their network partners for regular traffics in the beverage industry (read more), how CLP CARGO from Peru is strongly developing new business opportunities from new customers with several members of the group (read more) and how NAC from Sweden secures to grow their cooperation levels after meeting partners 1to1 (read more).
Members expand their specialised freight services
In a constantly evolving and demanding market, members have proved to handle the most special moves, taking full responsibility, paying attention to the security of the goods, and making sure to deliver on time. This is the case of Tarptautines Logistikos Centras TLC (Lithuania), whom were able to take care of 10 metal reels from the MVBONITA ship in a very limited period of time (read more), and Pol-Mare (Poland) that successfully completed the complex operation of transporting a Boeing 737-700 from the UK to Poland (read more).
Other examples have been shared by Origin Logistics (Turkey), as they managed to operate three different single pieces of heavy cargo within the same week (read more), and JTM (Portugal, US, Spain) as their AOG Team has been handling aircraft engines all the year through (read more). A delicate service was achieved by Blue Freight Service (Germany), that repositioned a high-performance microscope used in brain surgery in exchange between hospitals in UK and Spain (read more).
Despite the difficulties of the year, specially for our partners from China, while facing severe Covid restrictions, ports congestions, container shortage, and continuing with the war scenario, UNITEX (China and Hong Kong) managed to surpass the challenges and ship their consignments timely and effectively (read more)
Accreditation, awards and recognition to Members for their excellence
The Membership Awards 2022 were celebrated in Amsterdam during Freightcamp (read more), to show our appreciation and recognition to members' dedication, commitment, and support to the network and all partners. The winners this year are Grupo Soher (Mexico), PGF Consultants (South Africa), Pol-mare (Poland), Marcopolo Freight (UAE) and Tropi Sea & Air (South Korea).
But we're not the only ones who appreciate and recognize our amazing members for their excellence throughout the year, many of you have received awards, certificates, and recognition by different entities from the industry. We congratulate Shiftco Shipping & Logistics (India) on earning an award as a Dynamic Aircargo Professional of the Year in the 3rd Edition of the South East Air Cargo Conclave & Awards 2022 (read more). While Geocargo Transitarios ( Portugal) scored Top 5% Best SME of Portugal based on the Performance and Financial Soundness Index of 93% (read more). Also, CIMC ADS (China) was again awarded by Eva Airline as the Outstanding Freight Forwarder of the year (read more).
Non stop members launchings and openings!
Pangea members are committed to providing the most comprehensive services, world-class technology, and industry-leading expertise to make sure their customers and partners get the support they need. They continually look for new ways to inspire their success, ensure their services are designed with the customer's needs in mind, and deliver value every step of the way. As part of WTO GROUP (Bulgaria, Croatia, Greece, Slovenia, Serbia) strategic expansion strategy, they've launch this year in Kosovo, North Macedonia, Romania and Taiwan (read more). Transaltic (Argentina, Chile) opened a new office in Santiago, Chile, to widen their regional logistics reach (read more).
With a new warehouse and technology, Globex Logistics (Brazil) counts on 10.000 sqm logistics center in Sao Paulo covering all national territory, totally equipped to receive from general cargo to temperature controlled (up to -20 degrees), as well as distribution pick and pack. FJT Logistics (Australia) are also establishing new facilities in South Australia and Western Australia and have their own 9000 sqm warehouse (read more).
Both the warehouse and head office of Cyprus Global Logistics (Cyprus) were relocated in a 3000 square meter facility in Limasol (read more).
Additionally, Central Continent (Malaysia), relocated to a new office building in Kuala Lumpur (read more), the same as DHA Logistics (Vietnam) that due to their remarkable growth moved to a new location in Ho Chi Minh City. And, after nearly 15 years, In Time Worldwide Express (UK) relocated to new premises in Riverview, near Heathrow (read more).
Share your stories with us
We would love to continue hearing your stories during the new year, just send us an email with an idea and we'll work on your contents. Let us know more from your company, team, operations and developments, we'll be happy to share your achievements with the network community.