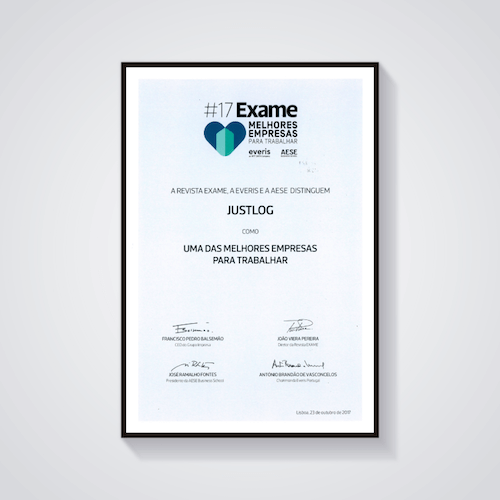 JUSTLOG, your Connecta partner in Portugal, has recently been distinguished in the ranking of the top "100 Best Companies to Work For" in the country by the Exame magazine in partnership with Everis Consultancy and the AESE Business School.
The "Best Companies to Work for – EXAME / EVERIS / AESE" initiative aims to recognise those organizations that, having a good organizational climate, stand out for their responsible attitude towards their employees and society.
The annual study consists of a multidimensional analysis that combines the assessment of the overall satisfaction index of the employee with the degree of responsible performance of the company among the society. Around 43,000 employees from different areas and sectors have participated in this year's scrutiny.
"We know that a good workplace environment, with satisfied employees and a strong team spirit, is the way to go further. Our people's commitment and dedication, essential factor of our success, has distinguished us as one of the 100 Best Companies to Work for in Portugal", expressed Jorge Emanuel, Managing Director at JUSTLOG. "We thank our team for the recognition of a shared project".
Pls. visit http://justlog.pt/ and http://2017.mept.pt/#top for more information.