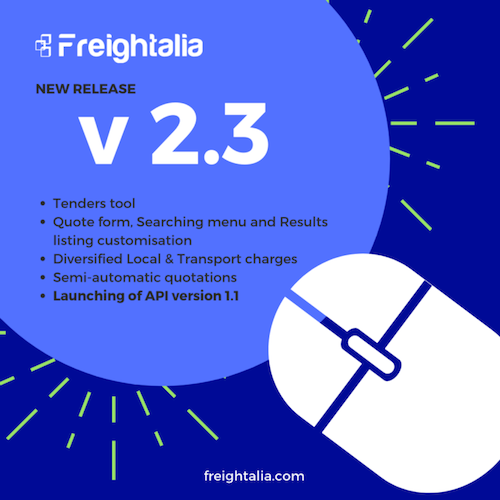 It gives us great pleasure in announcing that Freightalia v2.3 is out of beta and available as a stable version. You can now give your users and clients new set of features to experience with version 2.3
Here's What's New
Tenders tool, the cherry on the cake of Version 2.3
Generate and send in a same file all your routes to customers in just a few seconds. Select transport mode, origins and destinations, tick to include local and transport charges and you are done.
As never before, impress your customers with your speed and accuracy.
Since the look and feel your customers have of your portal is an essential factor, we have again focused improvements in the customization of your external pages.
Re-design of all external pages your customers and agents see from your system
Includes: Quote form, Searching Menu and Results Listings
Unlimited customization options
Perfect match with your corporate branding
Extend your selling power, for Local and Transport charges
Now you can define different Local charges for each Shipping Line and different Transport charges for each supplier, giving more versatile quotations to your clients.
Semi-automatic quotations
Improved workflow for creating manual quotations, which can be created and sent in seconds. Semi-automatic technology available also for generating manual quotations.
Launching of version 1.1 of our API for third party integrations
If you want to connect your current CRM with your Freightalia portal pls. contact us.
More Coming Soon
While these have been major improvements, we are not stopping here. We will soon be sharing further news and updates. We are working on many interesting features and updates, such as, languages translations, new calculation types and further UI/UX improvements based on client's feedback, to name a few.