We are excited to share the results of the post-event survey, where attendees provided valuable feedback on different aspects of the event. Your input and ratings on various aspects of the event mean a lot to us. We're thrilled to see that the overall satisfaction level was an impressive 9.3. Your ratings for Meeting Registration, 1to1 Portal Experience, Quality 1to1 Meetings, Social Activities, and Organization all exceeded our expectations and warmed our hearts.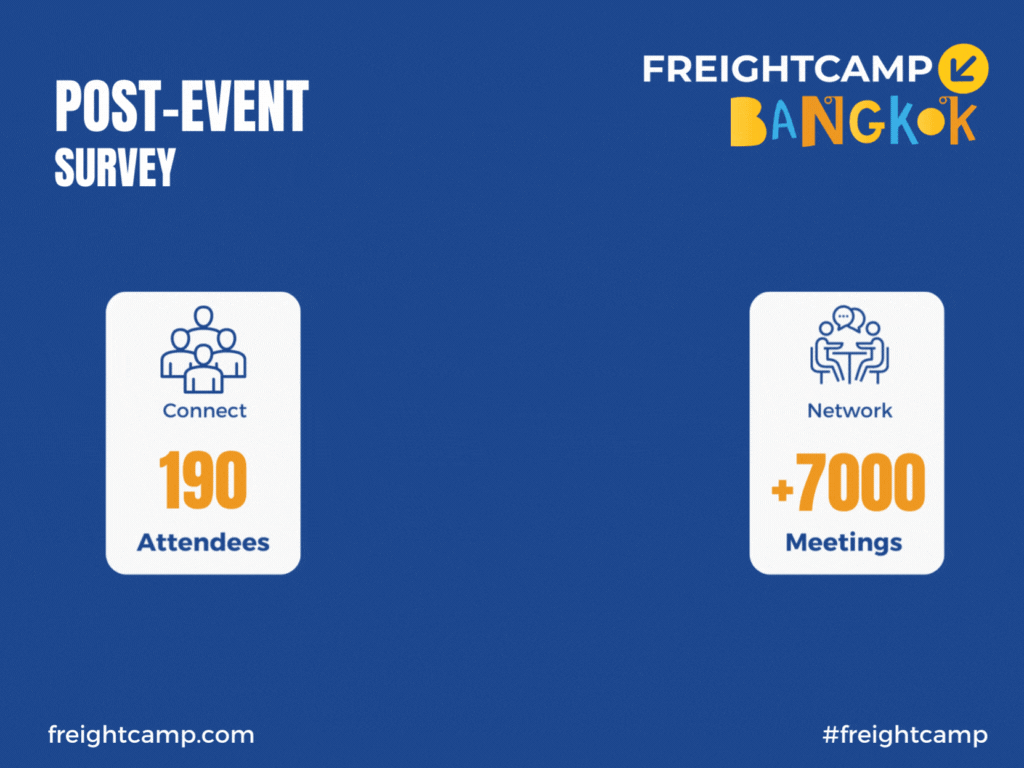 Here are some highlights from the survey:
Overall Satisfaction: 9.3
Meeting Registration: 9.4
1to1 Portal Experience: 9.4
Quality 1to1 Meetings: 9.2
Social Activities: 9.3
Organization: 9.6
A special mention goes to our new addition this year – the Innovation Corner. It was a platform that allowed attendees to showcase their groundbreaking innovations and projects. From the implementation of new specialty services to cutting-edge IT solutions and logistics process improvements, the ideas presented were truly inspiring. We are thrilled to see that the Innovation Corner received an incredible rating of 9, reflecting the creativity and excellence of our participants.
We also sought your opinions on the duration of the 1to1 meetings, and we are pleased to share that 85% of you found the duration of 20 minutes to be ideal. We believe this allocated time ensured efficient networking and knowledge exchange during the meetings. However, we are always attentive to your preferences, and 4% of the attendees expressed a desire to have longer meeting durations, while 11% preferred shorter durations.
One of the highlights of Freightcamp 2023 was the Speed Networking session, and we are delighted to see how well it was received! An overwhelming majority of 88% of attendees scored the Speed Networking activity 7 and above in the post-event survey. This high approval rating reflects the value and enjoyment that this interactive session brought to the event, serving as a great ice breaker and an excellent generator of connections.
Many attendees have even suggested giving more time for the Speed Networking during future events, as it provides a unique opportunity to network with a wide range of participants in a short span of time. However, we would like to emphasize that while Speed Networking is a fantastic way to initiate connections, it cannot replace the deeper discussions and meaningful interactions that take place during the 1to1 meetings. The 1to1 meetings provide the ideal platform to delve into specific topics, collaborate on projects, and establish lasting partnerships.
And now, for the exciting news! We asked everyone about their preference for the next Freightcamp destination, and we presented two incredible options: Bali and Panama. Both destinations offer unique experiences, and we hope to discover them together at some point. After tallying the votes, we are thrilled to announce that 60% of attendees voted for Bali, while 40% voted for Panama. We will consider your preferences carefully while planning our next adventure!
Once again, we want to express our gratitude to all the attendees for making Freightcamp 2023 an unforgettable experience. Your presence and feedback are invaluable, and we are committed to incorporating your suggestions to enhance our future events further.
We look forward to welcoming you once again to another extraordinary event.