RUTAIR INTERNATIONAL FORWARDERS, your Connecta partners in Spain, are delighted to announce that they have passed the final audit by the Spanish Tax Agency and have been granted the Authorized Economic Operator (AEO) status since February 25th. Being an AEO means that they comply with the World Customs Organization's (WCO) supply chain security standards and that their company is a trusted partner in international trade.
The WCO defines an AEO as a party involved in the international movement of goods in any function approved by, or on behalf of, a national customs administration in order to comply with the WCO or equivalent supply chain security standards.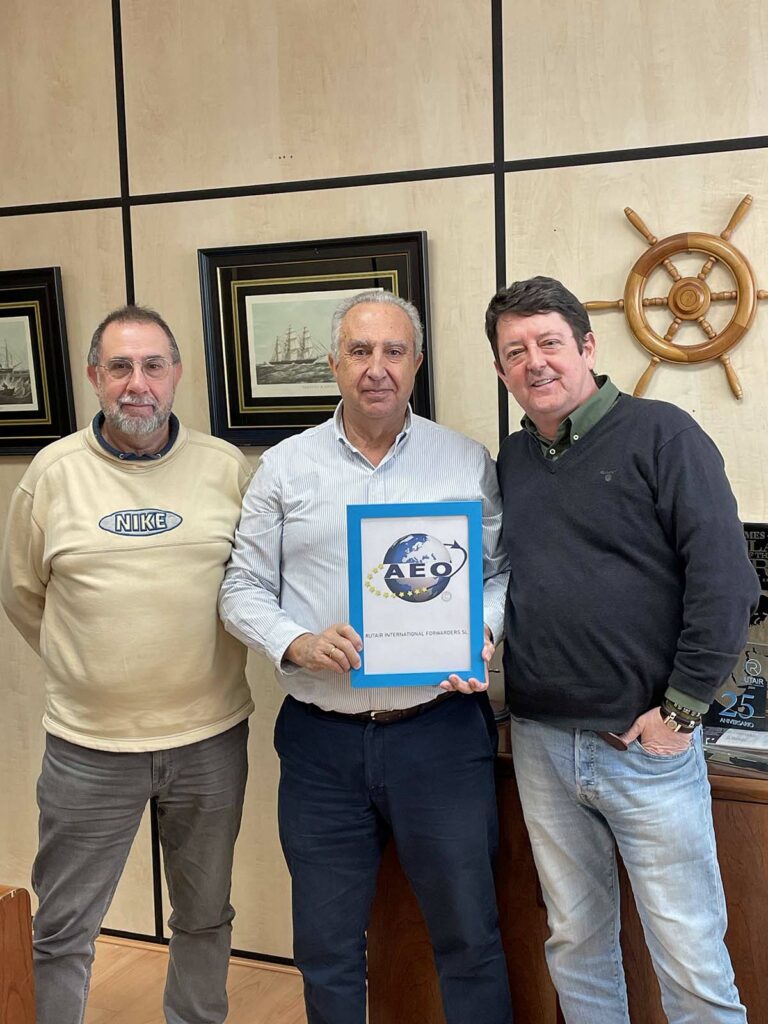 This certification by the Spanish Tax Agency ensures that RUTAIR meets the strictest criteria in information systems management, goods security, customs regulations compliance, and economic and financial management. Therefore, they can be considered a reliable commercial partner by both their customers and suppliers.
What are the advantages of Rutair's certification as an AEO?
It means that their rigorous internal processes in information systems management (information integrity), goods security (employee and facility integrity), customs regulations compliance, and economic and financial management meet the agreed customs standards.
In other words, when their clients trust them, they work with an AEO-certified company. They have been examined and approved by their Customs Authority and can guarantee that their processes are safer and faster than working with non-AEO certified providers.
The AEO certification is recognized worldwide as a quality mark that acknowledges that their role in the international supply chain is secure and that their standards and procedures are efficient, making them a trusted commercial partner.
Why should you work with an AEO partner?
In addition to the peace of mind that comes with knowing that an AEO agent meets the highest security standards, the general advantages include:
Priority treatment and reduced processing times for customs clearance.
Fewer physical and documentary controls at the customs, compared to non-AEO logistics operators.
Priority in case of additional checks to be carried out on shipments of goods covered by an entry or exit summary declaration or a customs declaration filed by an AEO certificate holder.
Better management and reduction of risks derived from customs clearance.
Daily commitment and smoother relationships with customs authorities.
Direct accreditation by the Spanish Tax Agency.
Entry and exit summary declarations with reduced data requirements.
Integrated global solutions.
RUTAIR is certified as an AEO according to the new Union Customs Code (UCC) and meets the highest standards. They have daily interaction with the authorities, who know and approve their working methods. They can offer a global, integrated solution with the rest of the air and sea logistics management and warehouses with a single organization.
Additionally, they provide advice on foreign trade with a proven reputation within the sector, and have highly experienced and qualified professionals (Customs Agents, Freight Forwarders, Air Cargo Agents-IATA, Maritime Agents, Insurance, Customs Warehouses, etc.).
Congratulations to all RUTAIR team for your successful achievement!
Pls. visit http://rutair.es for more information