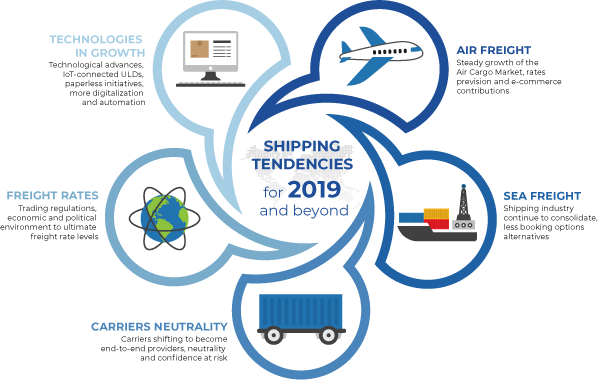 Just like any other industry, shipping and logistics evolve and change every year. These changes can be driven by various reasons, including implementation of new technologies, fluctuations in the market, or adjusted regulations. As we are getting started with the new year, the burning question becomes what changes we can expect and how they can affect the industry. With that in mind, let's take a look at some shipping tendencies for 2019 and beyond.
Steady Growth of the Air Cargo Market
According to comprehensive reports conducted analyzing the global air cargo market we can expect a steady growth to continue this year. The last estimates from IATA show a slow but steady growth to continue, despite the fact that the peak season leading up to the holidays did not produce the same demand as expected. Rates are predicted to be similar to those of 2018, although conditioned to oil price fluctuations.
The main contributions behind the industry growth are the increasing levels of international e-commerce and global investments. Online retail stores are actually a vital revenue source for the air cargo market and they tend to remain so in 2019.
Shipping Industry Continue to Consolidate
The current global demand and vessels space availability suggests that the trend of consolidation in the container shipping sector will continue. This implies that we can expect more operators merging or being acquired, as well as the continuation of operational Mega Alliances. In other words, the number of relevant and major carriers on a worldwide scale will be significantly smaller.
At this moment, it is believed that the ten biggest operators control up to 70% of the industry's capacity and that percentage may increase. This is not good as it reduces the booking options down to only a few alternatives, and increases the cost of freight.
Carriers shifting to become end-to-end providers
This is a concerning point for freight forwarders as some ocean carriers are announcing their strategies for widening their scope of services to provide end-to-end logistics solutions.
Some examples include the effective integration in this 2019 of Damco and Maersk into one organization following the launching of their digital freight selling platform Twill. As well as, the recent agreement between CMA CGM and Freightos for online quotings and bookings on CMA CGM China-US trade lanes and additional lanes planned in future.
Whereas these moves are justified as a more customer focused service level, it is clear that they put in doubt the neutrality of these operators that still need from the freight forwarders who significantly contribute in filling their enormous vessels capacities. So, freight forwarders should note who wants them out of the game.
Trading regulations and freight rates
The national, regional and international policies that the governments adopt have a relevant impact on the market. We are seeing some important movements on a global level these days, but it is hard to predict what exactly will happen. For example, NAFTA was seriously threaten before renegotiation was approved and significant changes can be expected to the world's largest free trade agreement.
The behavior of the United States has upset international trade partners lately. We are witnesses of tariffs being implemented between the countries that were previously trading freely, mainly US and China and also the EU, it is a mystery how this trade war will end and if agreements will be reached, but most probably it will continue to bring new imposed taxes on a larger number of products.
On the other side of the ocean, Great Britain is leaving the European Union and "Brexit" is expected to damage the economy and growth, as well as to bring changes in the regional and global shipping.
It is clear that previsions have to be made cautiously as the economic and political global environment remains volatile and can contribute to ultimate the freight rate levels.
Additionally, the United Nations have climate change and air pollution at the top of their priorities for the upcoming period. Starting from 2020, the percentage of sulphur in fuel oil will be limited to 0.5% at a global level. This means that operators will have to use low-sulphur fuel, which will be an increasing cost for carriers.
It is interesting to note that the plan of the International Maritime Organization is to continue working on reducing carbon footprint. The idea is to reduce 50% of greenhouse gas emissions until 2050.
Technologies in growth
We can expect to continue hearing about technological advances bringing positive changes and challenges to the shipping and logistics industry.
Shippers and forwarders may start benefiting from the use of IoT-connected ULDs in the airfreight industry, as several airlines have announced the implementation of such devices for tracking and monitoring the status and location of cargo. We'll also see the rise of new paperless initiatives as well as a major implementation of the eAWB.
Also we can hear from new opportunities to drive digitalization amongst container shipping lines following the creation of a new IT association as announced by the 5 largest shipping companies (MSC, Maersk, CMA CGM, Hapag-Lloyd and ONE) before the year ended.
Other digital launchings and actors will continue to appear and an increasing number of the established freight forwarders will adopt technology to automate and improve the efficiency and capacity of their processes, as shown as one of their main concerns in several surveys available.